Asheville Engine, Inc., the leading independent Ford Powertstroke engine builder in the United States has three different Stage 2 camshaft offerings for the 6.0 and the 6.4 Powerstroke engines.
Our own brand new custom built Billet Stage 2 camshaft lowers EGTs, spools the turbo quicker increases fuel efficiency.  Because of it's design, it also adds approximately 45 additional horsepower to a 6.0 and is much gentler on the valve train that a stock cam.  We've installed approximately 800 of these camshafts over the past 6 years in our re-manufactured engines and every customer loves them.  We sell our Asheville Engine Stage 2 cam for $800.00 which includes sales tax and shipping to anywhere in the continental U.S.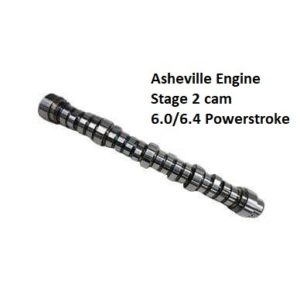 A step up from our own Stage 2 cam on a performance level is the Straub Technologies Stage 2 cam.  This cam is very similar to the Asheville Engine Stage 2 but Straub Technologies changed the lobe separation to get a little bit more performance out of a Stage 2 cam.  As a result, this cam is best for use in racing where a small percentage can make the difference between winning and coming in third.  Asheville Engine retails this Straub Technologies Stage 2 cam for $995.00 shipped.
Are you on a budget?  You can get the exact same performance as our Asheville Engine Stage 2 Billet camshaft with our Stage 2 reground cam.  To build these, we take a stock OEM camshaft and regrind the lobes to the same specifications as our Billet Stage 2 camshaft.  We have rigorously tested these reground camshafts in several dozen of engines over the course of 6 years and two of those engines just surpassed the 400,000 mile mark!
For the first time ever, we are offering our Stage 2 reground cam for just $465.00, tax and shipping INCLUDED! 
Please visit the Asheville Engine web site and click on our products to see these and more great products from Asheville Engine, Inc.
We Keep You Strokin'